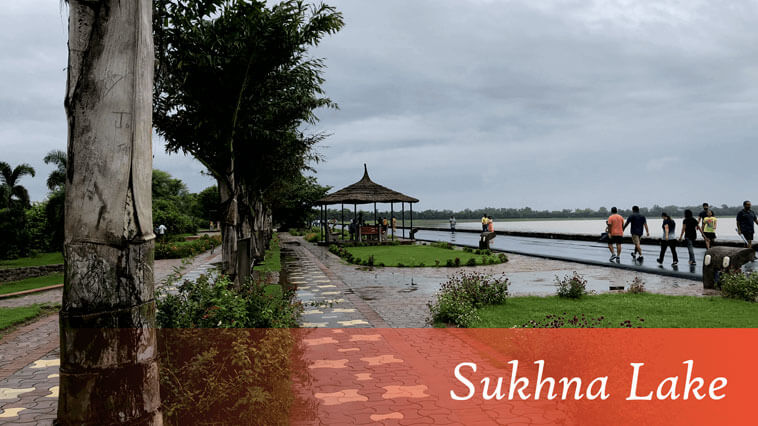 Are you in Chandigarh right now or planning to visit?
If yes then it is one of the most prominent tourist attractions here on your itinerary.
Wondering which one?
It is none other than the majestic SUKHNA LAKE, a man-made lake. A must-go-to place for locals and tourists. Sukhna means "Requesting for wish fulfillment". Seated nicely in the foothills of Shivalik's, Sukhna Lake Chandigarh is exquisite in its way.
History of Sukhna Lake
Many people who come here ask "How Sukhna lake was formed"? It was created in the year 1958 by damming Sukhna lake choe, a seasonal stream that flows straight from Shivalik Hills. Sukhna Reservoir was designed in 1974.
Le Corbusier, the architecture of Chandigarh and Chief Engineer P.L. Verma, gifted this beautiful lake to the city dwellers and are the core two persons who made the lake.
The depth of Sukhna Lake is 16 feet or 4.9 m and is sprawled over an area of 3 sq.km.
Located in Sector 1 of Chandigarh, Le Corbusier had a great vision concerning this lake, and thousands of tourists still throng it. Collectively Chandigarh Administration is continuing his legacy as till now no motorboats or other motor vehicles are allowed in the lake premises as requested by Le during its construction.
Golf Course fences lake on South and Rock Garden Chandigarh on Westside.
Le predicted that more and more people would come to Chandigarh Sukhna Lake for keeping their body and spirit in an ideal balance and you can see the crowd here throughout the year.
According to his words, now every day even before the dusk you can see people of all ages here walking, jogging, running, sprinting, etc. at walking track.
Images of Sukhna Lake Chandigarh
Sukhna Lake Address
Sukhna Lake also called Chandigarh Jheel, is located in Sector 1 of Chandigarh.
Chandigarh Golf Club and Lake parking is in sector 6, which is on the opposite side of the lake. The garden of silence, which is on the other end of the lake, also falls in sector 1.
People often get confused when it comes to Sukhna Lake in which sector as some say 6 and other 1, but it is in Sector 1 precisely.
How to reach Sukhna Lake Chandigarh?
Sukhna Lake Chandigarh Location is favorable to anyone visiting it via train, flight, local bus, auto, cab, taxi or own convenience. Here are the four ways to reach Sukhna lake of Chandigarh:
By Local Bus – There are three major bus stands nearby namely Sector 17 bus stand (6.5km), Sector 43 bus stand (10km) and Mani Majra Bus stand(4.2km). The local CTU buses that pass through Sukhna lake sector 6 are 2D, 206, 2F, 28, 32, 32A, 5C, 2B and 2C.
By Train – If you are coming via train from a distant location or nearby states like Delhi, Haryana, Himachal Pradesh, Punjab, etc. then Chandigarh Junction Railway Station is the nearest at a distance of just 5.7 km. It takes 15 mins to travel from Chandigarh Railway Station to Sukhna Lake.
By Cab – The best and most convenient option is a cab. Here in Chandigarh, the cab services are provided by Ola, Uber and Apni Cabs. Enter the precise location and book your cab.
By flight – Chandigarh Airport is the only nearest airport. Get down at the airport and board bus or cab for Sukhna Lake in Chandigarh.
Sukhna Lake Timings Chandigarh
The Sukhna Lake entry time is 5 am and closing time is 9 pm, all days of the week. The time required to roam around the whole premises is 2-3 hours.
No need to pay any entry fee as this popular tourist place is open to all.
In case you have a query, here is the Sukhna Lake Contact Number 0172 – 2700225 and 1800-180-2116 (Toll-Free).
Enough information to carry along let's enter into the premises.
Catch Sight of Man-Made Lake in Chandigarh
The moment you enter into the Sukhna Lake Chandigarh venue, you will feel delighted instantly because you may have never come across such a vast spectacular lake enough to tempt you. This serene lake represents the perfect union of flora and avifauna.
The entire lake cladded in greenery is an ideal spot to feel the nature meeting divine. The whole place is so captivating that the trip to Chandigarh is incomplete without visiting here.
Due to its popularity and the way it preserves nature, the Government of India has declared this place a Reserved National Wetland. Sukhna Lake in Chandigarh is an exemplary delight to eyes and souls.
Sukhna jheel even got the privilege once to became the venue for Asian Rowing Championships and accredited for being the most extended channel for yachting and rowing events.
The best time to visit this place is when the weather is moderate. Go early morning to feel the calmness around.
As the dusk shimmers on the water, joggers can be seen wandering around and gulping down the fresh breeze. Some people stroll barefooted on the grass while few meditate at this serene place.
In the evening, one can hear a musical flute or classical music playing on speakers installed around the premises.
During a rainy day, one can even get a tempting glimpse of tall Morni Hills and Kasauli Hills. As the night descends more and more, the light from Kasauli hills falls into the sea, thus adding more beauty to it. It's a bewitching sight to capture.
For the fitness freaks, Sukhna Lake administration even provides membership for open lawns, gym, indoor games, swimming pools, indoor games, golf clubs, and tennis courts. You can enjoy water sports as well.
There are myriad of things that you can do from Shikara ride to taking a stroll around while embracing nature to boating at Sukhna Lake.
There is nothing more peaceful than being surrounded with elegant, lush green surroundings and the cool breeze caressing your body.
Folks, check out our entire curated list here and see how many more things you can do at Sukhna Lake Chandigarh and make your trip the memorable one.
If you have already missed a few during your first visit and don't know what to see in Sukhna lake then don't forget to bookmark the article and try all of them on the next trip.
Things to do at Sukhna Lake in Chandigarh
Boating at Sukhna Lake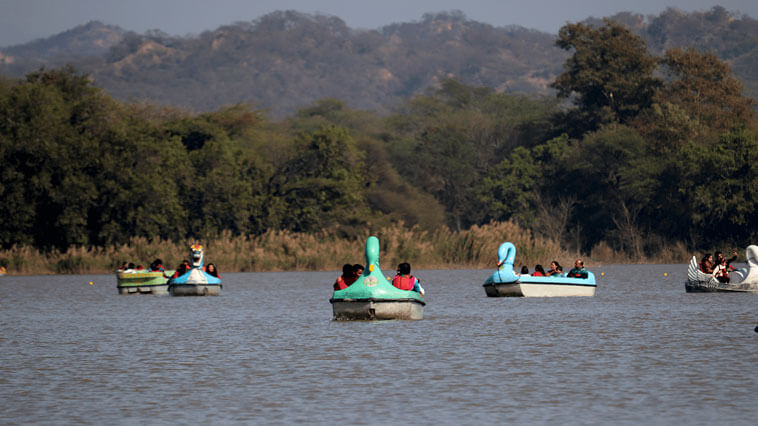 With the longest channel for rowing and boating in Asia, water activities are the first thing you should try before proceeding further to another exciting one.
Sukhna lake Boating Timings are 9:30 am to 6:00 pm for summers, and for winter it is 9:30 to 5:30 pm. There are two types of boats available; one is 2-seater and another 4-seater.
Recently CITCO introduced a mini cruise at Sukhna lake on which 25 people can ride at once. The charges per head are Rs 300 for 30 mins and best suitable for celebrating a birthday and mini parties.
Boating in Sukhna Lake can be enjoyed during the following months January to April, August to September and September to December, which is referred to as the best time.
Sukhna Lake Chandigarh Boating Ticket Price
As there are different types of boats available, charges vary according to it.
Price for Paddle Boat: • Rs 200 for 2 people and deposit Rs 200 as refundable security fee
• Rs 400 for 4 people and deposit Rs 400 as a refundable security fee
Cruise Boat Ticket price: • Rs 300 per person for 30 mins.
Donut shaped luxury boat ticket price: • Rs 400 per person.
Solar boat ticket price: • Rs 300 per person.
Note that the ticket price mentioned above of different boats is for 30 mins duration.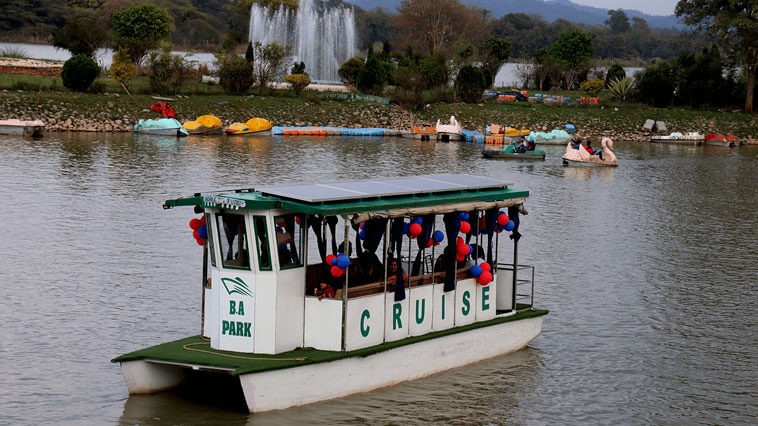 In case you want to book the Cruise Boat or Solar Boat for birthday or kitty parties then charges are Rs 10000 per hour. Sukhna Lake Cruise Timings is 30 mins per ticket purchased.
You can get the tickets from the counter at a nominal price compared to other places. Stand in the queue. Wear a life jacket first for your safety before entering the boat.
Note: Please reach the boating point quickly after purchasing the ticket. Usually, thirty mins are enough to explore the lake while being in a boat. After finishing the ride, reach the ticket counter quickly to collect the security amount you paid. A couple of minutes' delay is fine, but if more than that, they will not return the security fee. Time spent while being in line will not be counted as a delay.
Hop on Shikhara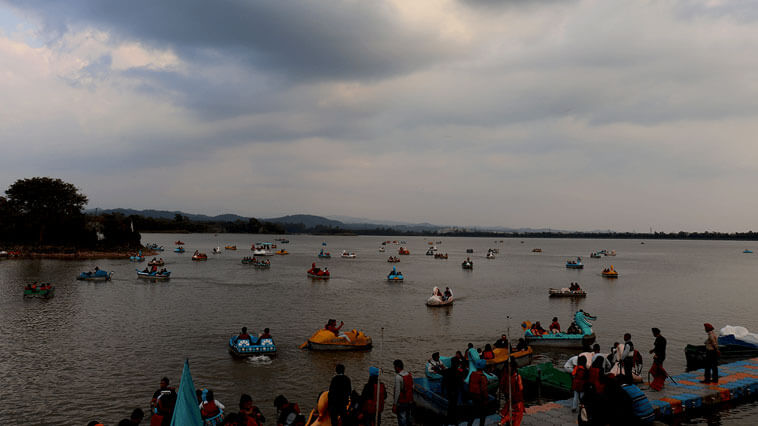 Though the Dal Lake in Kashmir is famous for the Shikhara ride you can enjoy it at Sukhna Lake of Chandigarh too.
Compared to the paddle boat the ticket price of the Kashmiri shikhara boat is high that is Rs 400 for 2 persons but if you love to ride on it then why bother about prices.
Visit Le Corbusier Sketches center
Moving ahead if you are a real fan of the beauty of Chandigarh then you must be familiar with the name, Le Corbusier. He is the man behind the design of the city, the architecture of various prominent buildings and attractive places in Chandigarh >out of which few serve as attractions for tourists.
He was a renowned swiss French designer, architect, painter, writer, and urban planner, considered as the pioneer of modern architecture.
In Sukhna Lake premises there is a Le Corbusier centre and three Souvenir Shops that you should visit for sure. They are managed by STEPS (Society for Tourism and Entertainment PromotionS).
Here you can see the sketches made by Le Corbusier for different locations while laying out the architecture of the city. See how the city came into existence.
Get yourself Portraited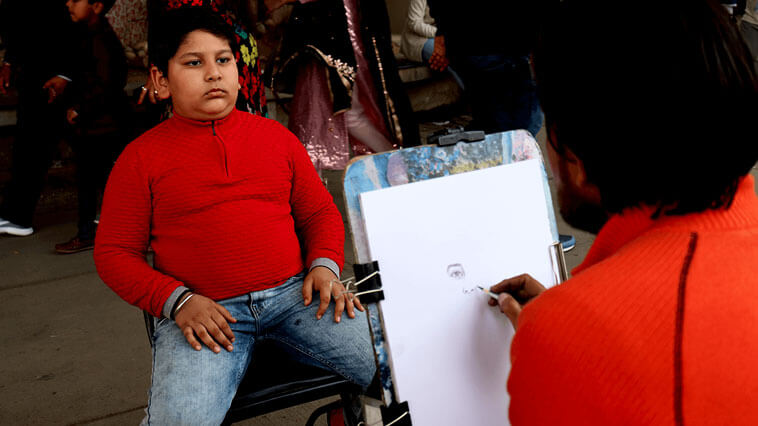 As soon as you enter into Sukhna lake Catchment Area, you will find many artists sitting on the chair with their drawing instruments in hand, ready to make your portrait.
Most of the tourists who visit this place often get their portrait made from these skilled artists. Get a sketch made by any one of them as all are competent enough and take along a bunch of beautiful memories. Prices vary between Rs 200 to Rs 500.
Munch at CITCO cafeteria
Feeling hunger pangs? this indoor restaurant serves Indian as well as Chinese cuisine. Even try the desserts, milkshakes and other drinks served by them.
Their food quality is superb and hygienic too. You can sit inside the restaurant or outside to enjoy the Surroundings. Munch your favorite food here and satiate your hunger.
Outside the restaurant, you will find many different stalls that serve coconut water, juices, flavored sweet corns, malai soya chaap, street food, etc. Do try it.
Keek in Souvenir Shop
This shop reminds us of Le Corbusier and the charm of the city. Administration of Chandigarh manages a souvenir shop at lake premises. Here you can see various gifting items related to Chandigarh for your loved ones. If you haven't been to this shop, then don't forget this time. Take a glance at the things displayed.
From a souvenir shop, you can buy some items to carry back with you, which will remind you of the best time spent.
Ride the Furious Bull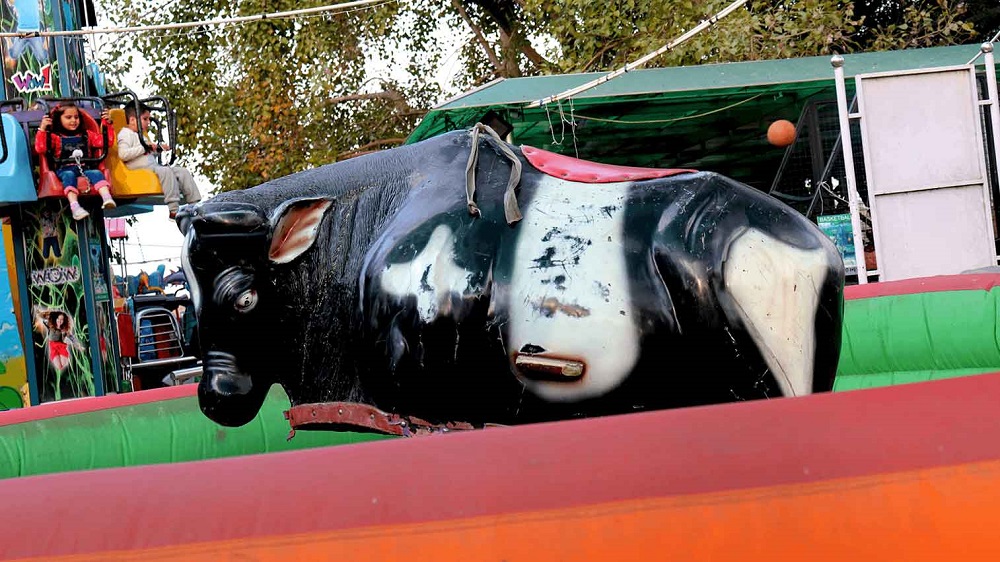 Who doesn't love to ride the bull? Just sit on the bull, hold its Horns tightly and drive back and forth.
It seems crazy, right. If you want to experience this insane adventure then Sukhna lake Activities Area is the best place.
For your safety let me tell, please hold the horns tightly otherwise you might get thrown in the air by the bull but chill you will not get hurt.
High Camel Ride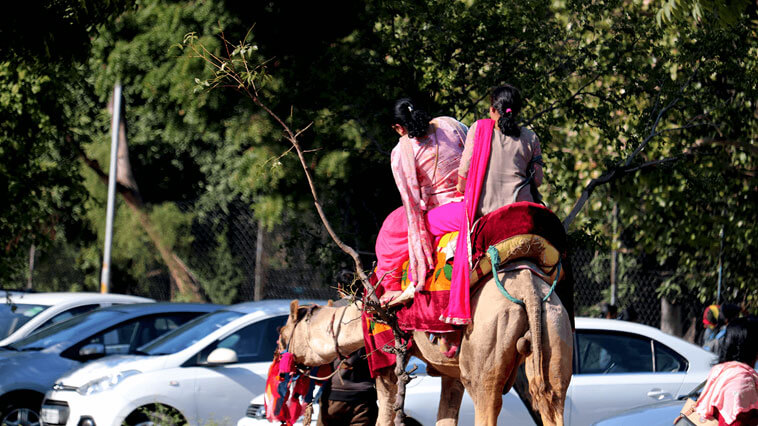 No need to go to Rajasthan to take pleasure in the Camel Ride if you can enjoy the ride here at Sukhna lake in Chandigarh. You will find many camels sitting at the entry gate with their owners ready to give you a ride.
Enjoy and feel as if you are sitting on the 7th sky.
Pose with Open Hand Monument
Chandigarh also called "THE CITY BEAUTIFUL" is a perfect epitome of modernity and peace as its emblem depicts.
The Open Hand Monument established by Le Corbusier at the Sukhna lake Premises bears a strong message. It conveys everyone living in Chandigarh to be at peace, reconciliation and promote the unity of mankind.
It stands tall at various other places also like Sector 1 Capitol complex, Chandigarh Punjab Border (Zirakpur), etc.
It would be an injustice to compare this monument to any other in the world. Moreover, the Le Corbusier open hand monument lies on the ball bearing, which turns according to the direction of the wind.
It portrays what life is as it keeps changing constantly. In simple words, it urges everyone to Give and Receive — an optimistic symbol of hope.
Suicide Point Sukhna Lake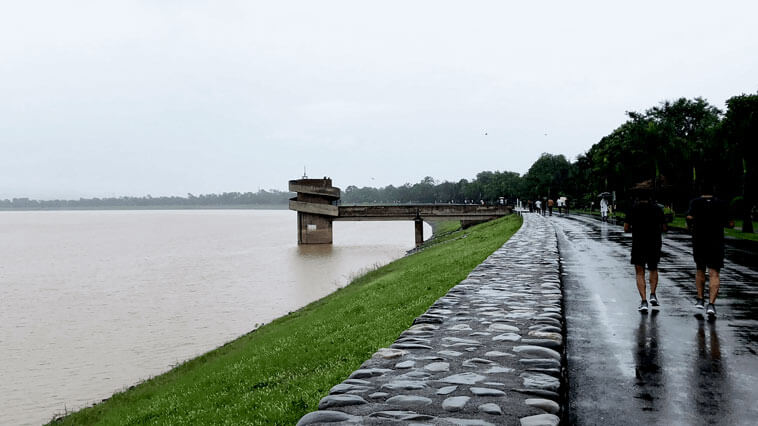 Feeling scared? Don't be you are in safe hands. The primary purpose of this tower was to measure the water level of the lake. Years back, people used to ascend here and jump into the lake to commit suicide. Many cases were reported which even made this place seem haunted at night. But a request that please don't do this as life is very precious and ups and downs keep coming with time. Many suicide cases were reported from this tower. Hence it got the name "Suicide Tower".
Now the tower has been adjourned, and no one is allowed to enter into it. It's still a famous spot for photographers to click captivating shots.
Here comes the good news: Sukhna Lake Interpretation Centre
On the 52nd death anniversary of Pierre Jeanerette's, Sukhna Interpretation Centre was inaugurated by honorable Manoj Parida. Pierre designed the eye-catching structure standing amidst the lake with the water pump. The cylindrical-shaped building is encircled by a ramp shaped staircase that ends at the terrace.
It is opened again after three decades. The Chandigarh Administration did the renovation and restoration.
Though the place is small, it showcases how the lake came into existence and lesser-known facts about it in the forms of panels hanging on the walls. The assigned team curated the text and the images. The displays include old sketches, drawings, and pictures.
The structure still stands gloriously as made initially by Pierre. Do visit when at Sukhna Lake and pay tribute to Pierre.
Shoot with Ages Old Peepal Tree
The peepal tree here is said to be the oldest tree in the city. It stands tall even before the town was developed and can be seen as soon as you enter into the Sukhna lake Running Track or Walking Path.
Its beauty tempts tourists to click a photograph with it.
Stroll or Jog on the Jogging track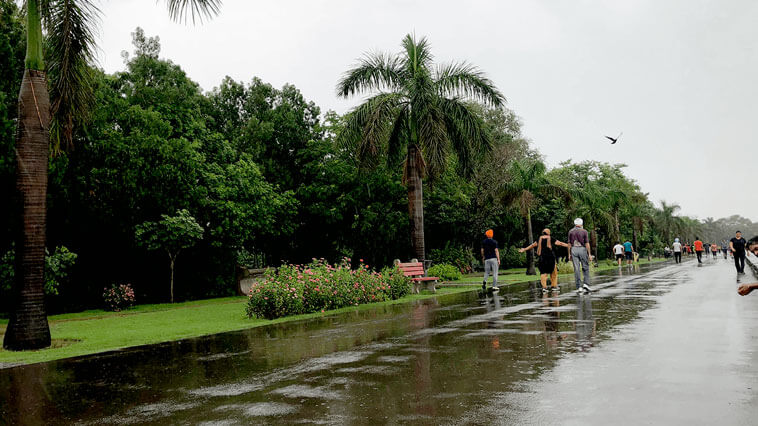 Chandigarhians are health freaks and love to stay balanced. To check if the previous statement is true or not, go early morning to Sukhna Lake or at Sunset to see people of all ages running, jogging, walking or following their physical regime.
The jogging track was explicitly developed for the joggers on the main path's right side, and on both sides, it is covered by lush green trees.
Track Length is 6.5 miles that are approx. 15000 steps and elevation of 62.3 ft.
Ascend tower to see Chandigarh Golf Club
Climb up the stairs that end at the top of the tower from where you can get a whole glance of the lush green golf course. Are you a golf player or its enthusiast? Yes, then pay a visit whenever you go next time. The tower is located on the right-hand side of the primary walkway and near the beginning point of the jogging track.
It comes under the Sukhna lake Sports Complex. A beautifully laid golf course sprawled over 7063 yards have 18 holes. Hone your golf skills now.
You will find professional golf trainers and coaches teaching aspirants. The best time to visit is Feb to April or Aug to Nov.
Entry fees for Golfing at Chandigarh Golf Club
The price is Rs 500 to Rs 1000 per person. For registered applicants, the green fee rate is INR 400, INR 500 for guests and USD 35 for foreign tourists.
On the weekend the fee for guests is INR 1000, registered applicants are INR 800 and foreigners are USD 50.
In case you want to do the practice then charges are INR 50 and INR 70 on the weekend.
Catch sight of dawn
You need to be an early morning riser to get a glimpse of dawn at Sukhna Lake Chandigarh. If you are fond of watching sunrise or Sunset, then don't forget to catch the view.
Even in the morning, you will find immense people jogging, walking or working out. Wake up early for just one day if you can't make it every day to fell in love with nature's beauty.
Feel the ambiance of the entire city here.
Sit on Stairs
After going a few meters away, you will find stairs going down into the lake. Sit on stairs laid perfectly well, seeing you the ducks might come closer thinking you will feed them.
A variety of migratory birds at Sukhna lake Chandigarh come every year. Feed them and feel the water waves caressing your body.
Sukhna Wetland was declared as an excellent habitat for the migratory birds whether avian or aquatic by the Indian Government.
From October to March, you will find here a large number of birds flying over the lake and ducks swimming.
Find in Chandigarh request the tourists not to feed the ducks or birds with snacks, chips, biscuits, etc. while sitting on stairs. It is indeed not good for their health and harms them adversely.
Take care of kids and children if they are along with you. There is even a rock wall that acts as the fence, and here you can often see the couples sitting.
When you are on Sukhna Lake Running and Walking Track then on the way you can find various stairs at the backside of the lake that leads to the road. At the bottom of the road, you will find some food stalls.
Sojourn at Garden of Silence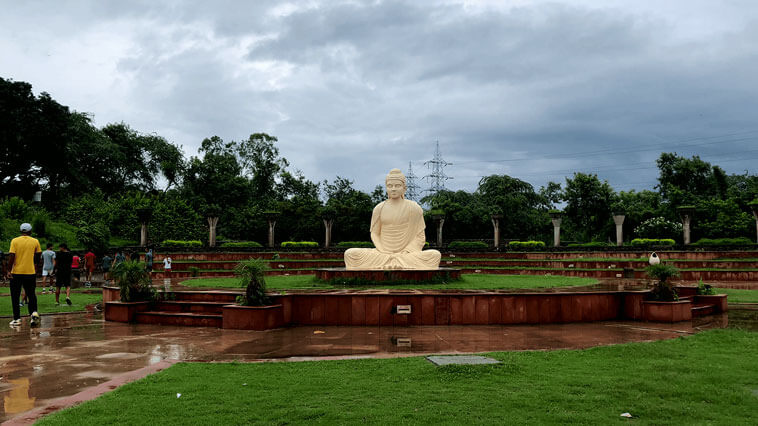 Reached at the other end of the lake, you will see the tall buddha statue amidst the park enclosed with concentric circles which is also called Buddha Peace Park.
As the name denotes, here feel the peace-filled surroundings get your mind and body charged up again.
Sukhna Lake Chandigarh Night View is the sight to behold, so try to come during the evening when the dusk starts and lights turn on with soft music playing in the background.
As everybody says, the lake seems breathtakingly impressive at a time of dusk and dawn both. Lake looks more like a painting or movie scene. Enjoy the scenic beauty with your friends, family or beloved ones.
Sukhna Water Regulator (DAM)
The dam controls the water level of the whole Sukhna Lake. The dam is located on the farther end where the Garden of Silence is. Gates remain closed and open in monsoon season only when the water is above the threshold mark. It is the primary source of water for the lake. Though it is entirely a human-made lake, the perfect backgrounds, and ambiance setting doesn't make it seem like.
Wrap UpI think now you got enough things or activities on your list to do whenever you visit next time SUKHNA LAKE IN CHANDIGARH. No need to pay any entry fee for catching sight of this fantastic lake. Sukhna Lake is the most prominent part of the city and best tourism spot for immense tourists.
Depending on the time and month you are visiting, you can experience the scenic beauty of this lake. Whether it's dawn or dusk, Sukhna lake keeps reflecting its eternal beauty. Escape the mundane lifestyle now and enjoy the breath-taking beauty of nature in tranquillity.
It's all up to you whether you want to sit in the boat and paddle around the lake or merely going to praise nature while sitting on the bench. You will leave with an enthralling experience for sure.
Take a vacation now and spend a few days away from the humdrum of the crowded cities.
Eager to check out the Sukhna Lake that pulls thousands of people every day, here are few more details for you or the questions you might be having in your mind.