Are you in Chandigah right now?
Yes, then your trip is incomplete without paying a visit to the exotic Cactus Garden also known as National Cactus and Succulent Botanical Garden and Research Centre.
You might have visited the Rose Garden of Chandigarh but a garden full of succulents and desert plants is truly ravishing. It is located in Panchkula Urban Estate, Sector 5, Haryana and merely at a distance of 9.8 Km's from THE CITY BEAUTIFUL. It covers an area of 7 acres hosting various varieties of Cactus.
The park remains open daily in the months of April to September between 9 AM to 1 PM and from 3 PM to 7 PM while during October and March, between 9 AM to 1 PM and from 2 PM to 6 PM. The entry fee is Rs. 10 per head.
To your surprise, let us tell, its ASIA's largest succulent botanical garden intended to protect the endangered species of Cactus and other Succulents. Once you pay a visit here, your experience will be different as you get to see something else aside from the same roses and orchids. Let's go through its history before proceeding further.
Images of Cactus Garden Chandigarh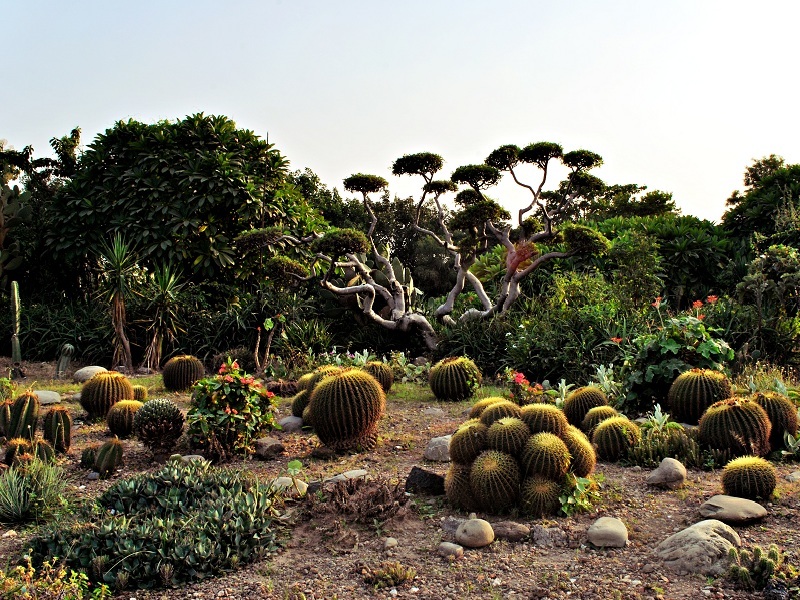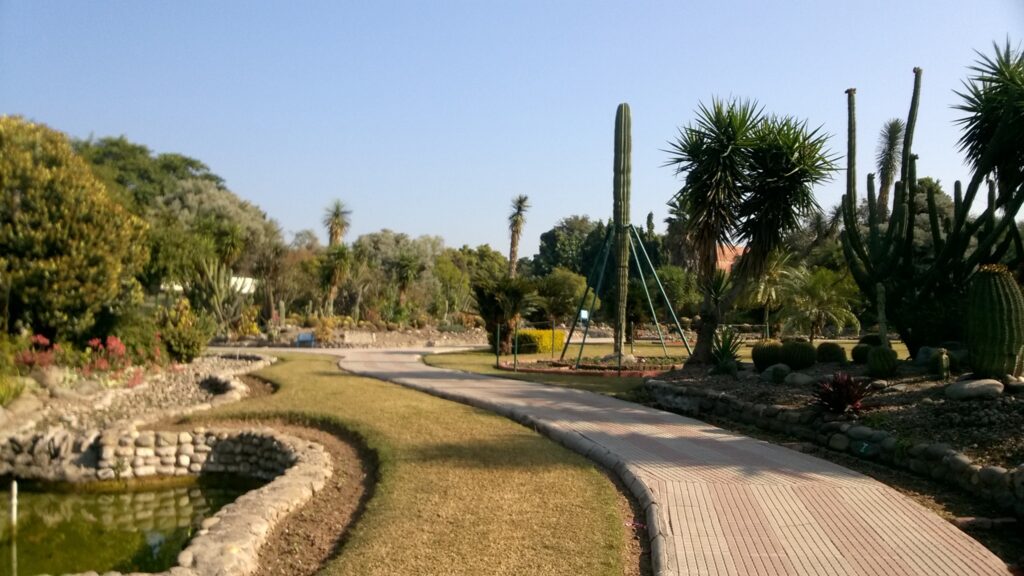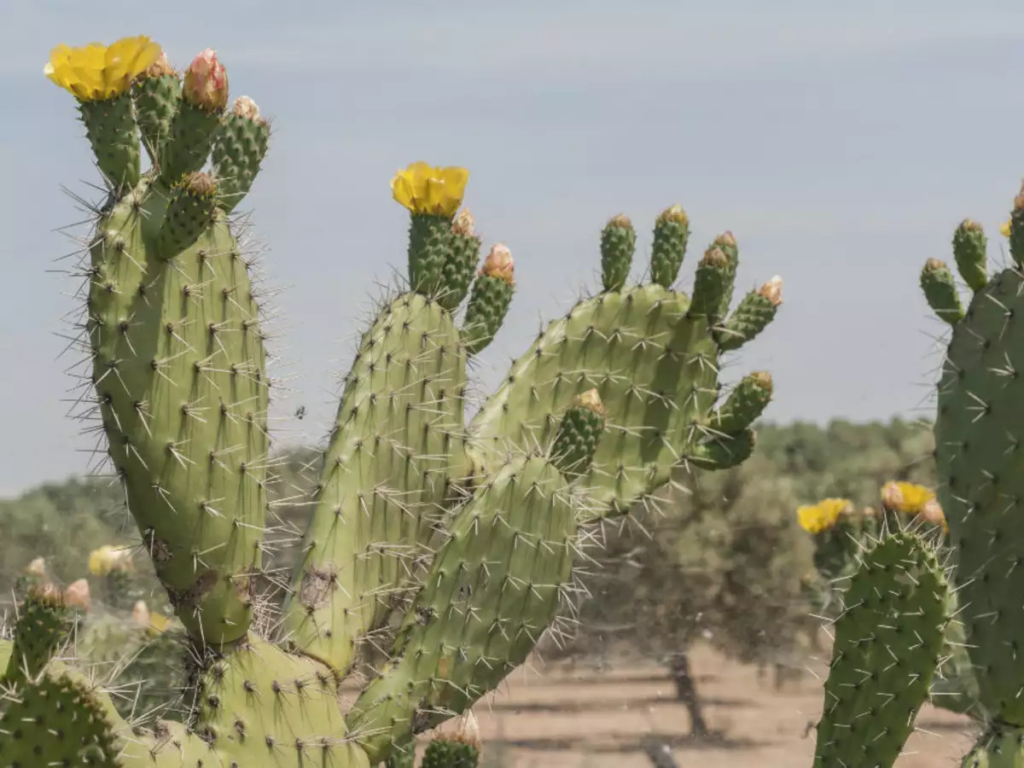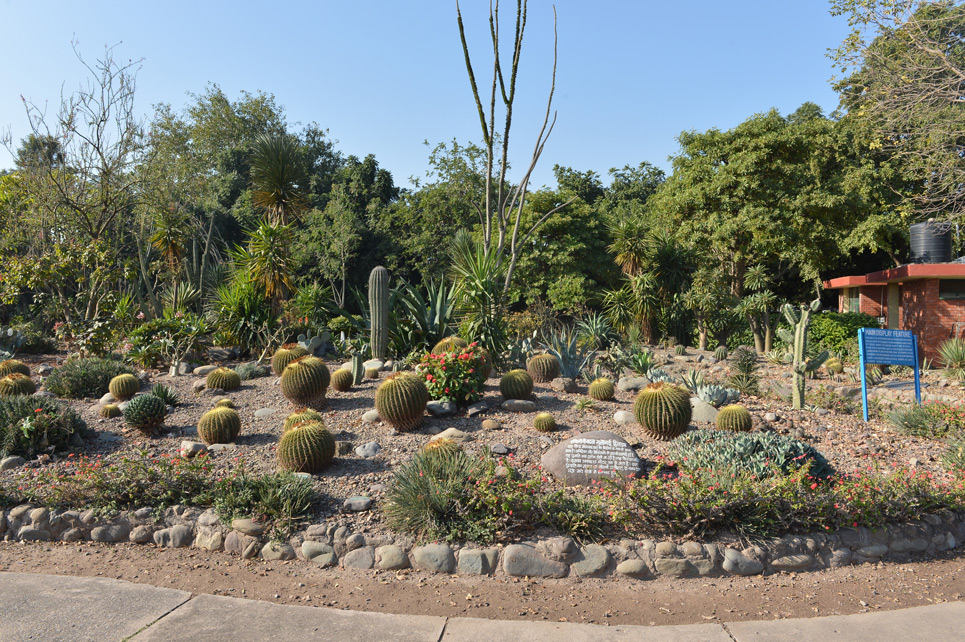 History of Cactus Garden Chandigarh
Located in the heart of Panchkula aka Satellite Town of Chandigarh. The man behind its inception is Dr. J.S. Sarkaria. To pay revere to its creator, it's also known as Sarkaria Cactus Garden. It was established in 1987 and well known for its impressive beauty. It hosts endangered and unique varieties of desert plants. Dr. Sarkaria worked with whole dedication and poured love to make this place extraordinary. Due to this reason only, this place has its firm place in the history books. It pulls the Botanists and Nature lovers the most.
The main objective behind its creation was to preserve the endangered species. Keeping this in view, this place hosts more than 3500 species along with beautifully laid waterways.
You will find here cacti small enough to fit your palm and some towering at 11-15 ft. It's also home to three greenhouses, 3 water bodies, and 25 raised ground mounts.
Unlike other parks, it serves something wonderful to your eyes and is worth visiting.
Attractions of Cactus Garden in Chandigarh
Apart from being very well maintained, this place has so many things on its platter to leave you amazed.
Garden is home to Genus Caralluma, it's an Indian origin species. Prominent highlights include Bursera (Mexican Origin) and Echinocactus Grusonii. Other varieties include Carnegia Gigantea, Pachypodium collection, Fouquiria Spendens and Adenia Venenata which belong to the Passifloraceae family and got from Yemen.
Cactus Garden Chandigarh contains 272 species of Genus Mammillaria and hosts 160 species of Aloe Speciosa and Aloe Ferox.
Most of the trees here are local species. You also get to see other prominent varieties like Opuntias, Ferocactus, and succulent plants that include Columnar Cacti, Agaves, and Echninosereus.
Raised terrace-like structures where the succulent plants are planted also present here. To add more beauty, rare varieties from Mexico and South America have been brought.
Different styles of Bonsai plantation is displayed. The nine glasshouses here contains varied species of cactus plants.
Other major highlights are haworthias, aloes, and gastritis. The names might seem technical to you and you are unable to understand. But once you visit, you get to know everything.
Low growing plants like astrophytum, mammillaria, notocacti, and several other species are worth watching. There are both low lying plants and the ones that touch the sky. There is one cactus in this garden that has a height of 30 feet and is from Arizona.
Bursera shape of big tree.
You can also find Aloes, Haworthias, and Gasterias here which are represented very beautifully. Cactus garden Panchkula also puts up the plants for sale.
Tourist importance of Cactus Garden in Chandigarh
Sarkaria Cactus Garden is Asia's largest outdoor succulent and cacti garden. This is a popular place worth visiting by people all around the globe, across 7 seas and throughout the globe. The major purpose behind its establishment was conserving and preserving endangered cactus species.
Garden is home to Indian's origins Genus Caralluma complete collection. Nearly 800 species of cacti are naturalized on mounds raised. Species of low ground cacti include notocacti, mamillarias and astrophytum. Exotic species like aloe speciosa, aloe Ferox are also present there.
Cactus show also is organised here during the month of March every year. Bonsai collection is another major highlight.
Here you can visit with your kids and this place is full of adventure and information. How was your visit, do share your experiences with us and follow us on Instagram – Facebook to get every update about Chandigarh immediately.