Elante Mall designed by the Larsen & Toubro Group and Woodhead Architects which is an Australian firm has wowed the audiences with its regal look. Elante mall Chandigarh now become one of the largest contributors to the rising economy today.
The building is spread in about 20 acres covering 1.1 million sq. ft of area. It is meticulously constructed in three blocks; office complex, the mall itself and the Hyatt Regency, all facing a front courtyard. By the description itself, one can well asses the zeal and royal feel that it offers.
Let's get straight to the facts of Elante Mall Chandigarh
The Elante mall Chandigarh apart from the ground floor is divided into three beautifully arranged floors with Italian marble flooring, superbly built shops and is home to international brands some of which are new to the Indian Market.
If you come to Elante Chandigarh anytime then for all the women out there be sure not to wear those high heels as you will regret wearing them dearly.
The 3 floors are so huge that you need one full day just to explore the things offered and places to visit in chandigarh. Once you enter the mall, it is hard to resist the temptation and not indulge in this great éclat.
Images of Elante Mall Chandigarh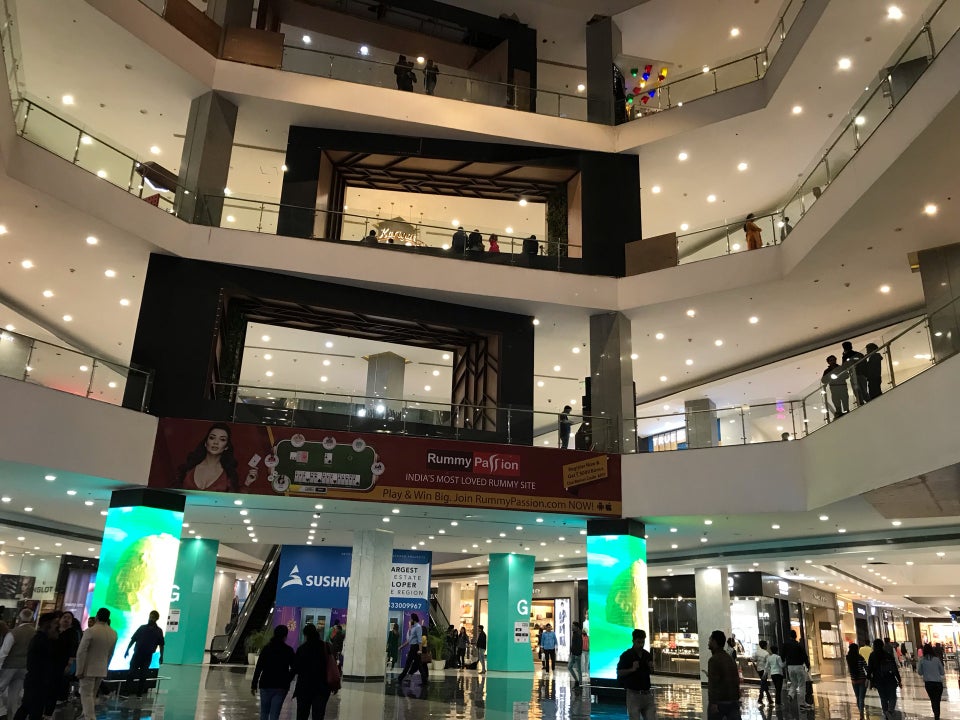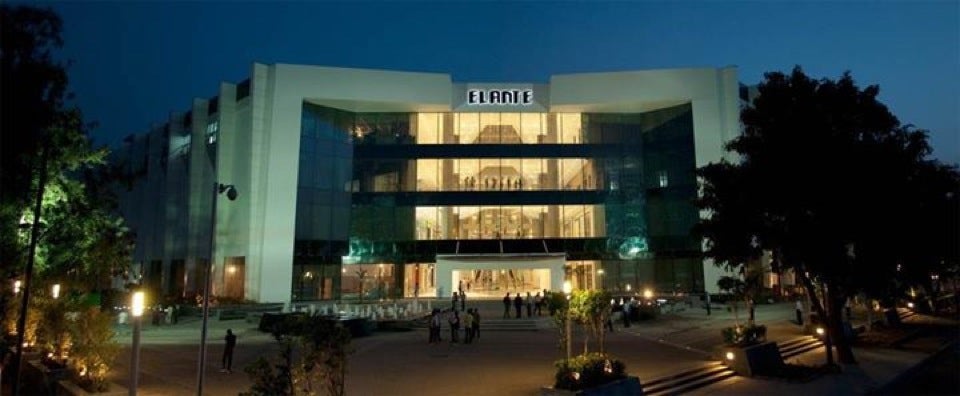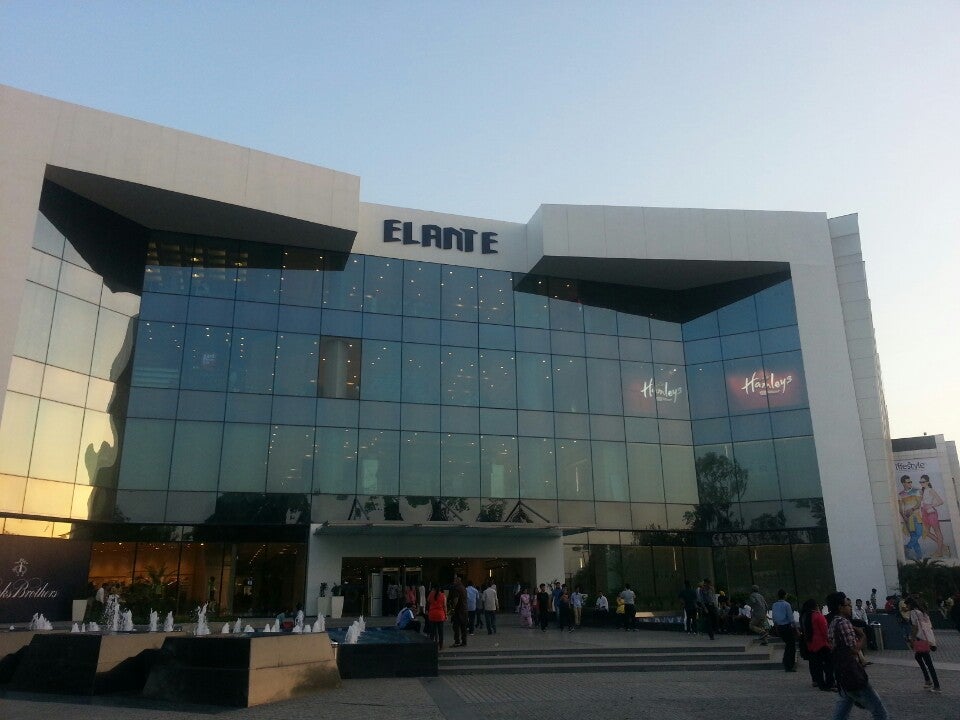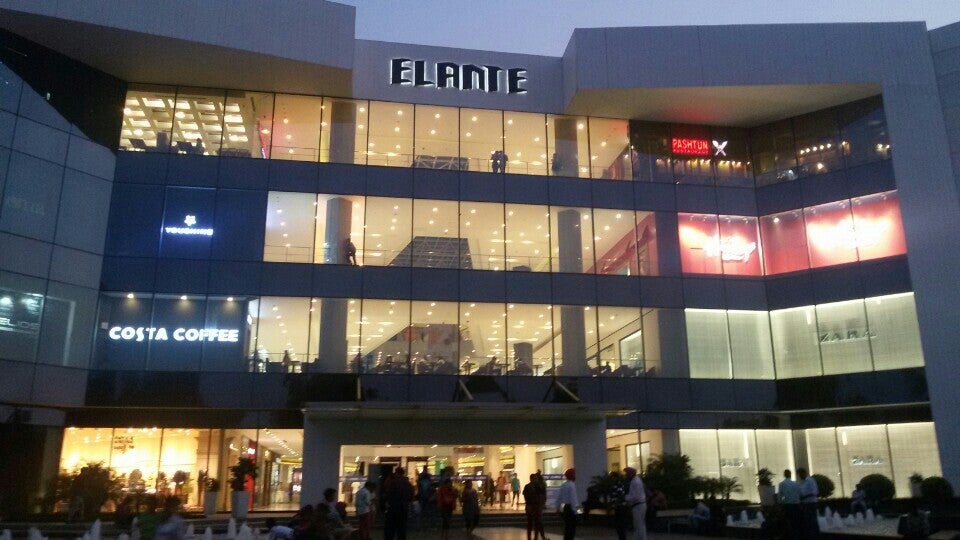 Let's dawdle floor to floor of Elante Mall Chandigarh , Brands List & Shops:
Ground Floor:
The floor for all your premium shopping! If you are looking for buying premium accessories and good rates for clothing, watches, bags, and accessories; this is the place to be at. Elante Mall Chandigarh hosts national and international brands.
Premium Footwear's stays high in demand especially for the men who are into leather and camel shades. This floor is home to all the finest premium accessories that you can think of. Charles & Keith to ALDO, Tommy Hilfiger to Brooks Brothers; one can spend hours and hours to shop and still not get tired.
Elante Mall Chandigarh Stores is full of international premium brands with great deals and offers and for the one who is a brand freak you will be surprised by the price listing. They are so affordable!
First Floor: 
Dedicated to Men's fashion, you are in for a treat! Though there are shops for women's clothing lines as well, the floor is more dedicated to men's wear, sportswear, bags, and accessories. This floor has some of the best international brands that are a very recent addition to the mall where some have even been newly introduced to the Indian Market.
Who says men are easy going when it comes to shopping? Visit the first floor and witness the men frenzy! It is the best floor to go for Formal Wear shopping; to name a few Louis Philippe, Park Avenue, Peter England, and US Polo are some of the brands offered here. Men get deep into the shopping trends even more than a woman could; just a speculation folks!
Second Floor:
All the young girls and beautiful women roll up your sleeves and enter the effervescence that we call the "Second Floor" dedicated to your kind. Also, you can see quite many children's brands for clothing and toys.
Handbags and accessories, electronic gadgets and premium jewellery are all available here where brands like Biba, Manyavar, Meena Bazaar, Monte Carlo, and more are available. No matter how much you plan on spending the limited money, once you enter Elante you will go overboard. Also, to relax your nerves and get that much-needed massage, get hold of the best salons, spas, and therapy centers that are lined up at this floor.
The magnificence of place is such that one just cannot resist and with the exciting offers and deals, your pocket will surely lose some extra pounds!
Third Floor:
This floor is only for "Entertainment", where you get to enjoy the PVR Cinemas, pubs, family entertainment, fun city, sports bar, bowling alley, and restaurants all in one place. Get a tattoo or a portrait made, face painting, mehndi, and nail art and more. Enjoy Bumper Cars rides, Samba Balloon and other fun activities.
Enter Blu-O and unravel the HyperPVR cinemas with 9Di movie experience. Not sure what 9Di is? It means you will have the best 15-20 minutes of a hyper-realistic movie experience with 3D, rain, snow, lightning, wind, smoke, bubbles, seat vibration and movement effect and also a Gun shooting experience where one will shoot at the screen amongst other exciting features.
For the food lovers, Elante Mall Food Court is there to rescue you. You can enjoy the Café barista or the Red Mango, fresh from the ovens Nik Baker's bakery items, get the taste of Sindhi Sweets, or enjoy the Chinese Cuisine with the Kylin and Chili's; you will simply love it! If you are only here to have some good time and roam around a little, then do not miss this floor as you can spend a hefty good time with your friends all day long.
At PVR Elante Chandigarh you can enjoy watching the latest Hollywood, Bollywood and Pollywood movies while munching in snacks available inside the PVR Cinemas complex.
What's more in store!
Apart from the shopping spree, electronics and gadgets with tons of options to choose from you can do some grocery shopping from the Hypermarket and Department Store Section as well. For household shopping, look for House-ware section to check out the trendy furniture, decorative items, etc. For the book lovers out there, get hold of the Book Cafes. Buy toys and gift items for discounted prices. There is another section where you can get all the health and beauty products, supplements for skin, essential oils and more.
This is not all; Elante Mall of Chandigarh has brought you with Harley Davidson and Royal Enfield Bikes where you can get spare parts as well.
: Yes! You heard it right. Elante has an official Disney Princess Academy running in their mall which prepares the little girls to participate in the Disney Competitions where they learn how to be a Disney princess, etiquette, walk and style and get the chance to feature as a Disney Princess with the Walt Disney Channel Group. A fairy-tale that now your little daughter can be a part of!
Elante Mall Chandigarh Timings: All days of the week 11:00 AM – 10:00 PM
Here is Elante Mall Official Website.
Other Facilities offered at Elante Mall
OLA Cabs Service: The mall has a separate OLA Service Desk where you can order a cab at any time.
ATM's:  Spread all over the mall placed on each floor for easy and quick access.
24 HRS Ambulance: When in pain, every minute counts! The mall has special arrangements to help your loved ones in the time of need.
Parking for Women: To make the visit comfortable for the women, Elante has arranged for a separate women parking space.
24/7 Security Service: Be carefree and enjoy at the Mall without worrying for theft, eve-teasing or other dangers as their 24/7 Security Service is always around.
CCTV: The place is covered with CCTV cameras at all angles.
Parking Space: They have three-story parking which can accommodate more than 5000 cars at a time, approximately around 5800 cars. Parking rates are also nominal; for two-wheelers INR 10, for Four Wheelers INR 20-100 (according to hours)
How to reach Elante Mall Chandigarh?
This place can be accessed from almost any part of the city. You can use the cab service to reach the mall. Regular bus service is also available and centra mall bus station is the nearest stop.
The nearest airport is Chandigarh International Airport that is just 17 Km's away.
Address:
# 178, Industrial Area,
Phase 1,
Chandigarh, 160017,
India.
Phones: +91 172-4654482
Timings: Weekdays from 11:00 AM to 11:00 PM