Today we formally launch a new version of Sneed – not just the site and functionalities, but also a new logo and our commitment to help you find the best workspace always.
What's New in Sneed
Design & Functionalities:
We have completely revamped the user interface. It's cleaner, loads faster and takes you right into the heart of the solution. We have made it easier to navigate from the homepage to any of the branded workspaces or jump directly to your city page.
Our search bar on the top of the page ensures you can start a new search anytime!
Also, we now have an exclusive mobile interface. Login into the site, and you can easily access the shortlisted workspaces from your mobile device.
We have also added plenty of new features on the site, including shortlisting and compare workspace options, cleaner gallery and access to more user reviews. We are working on many more and will roll out over the course of the next few months.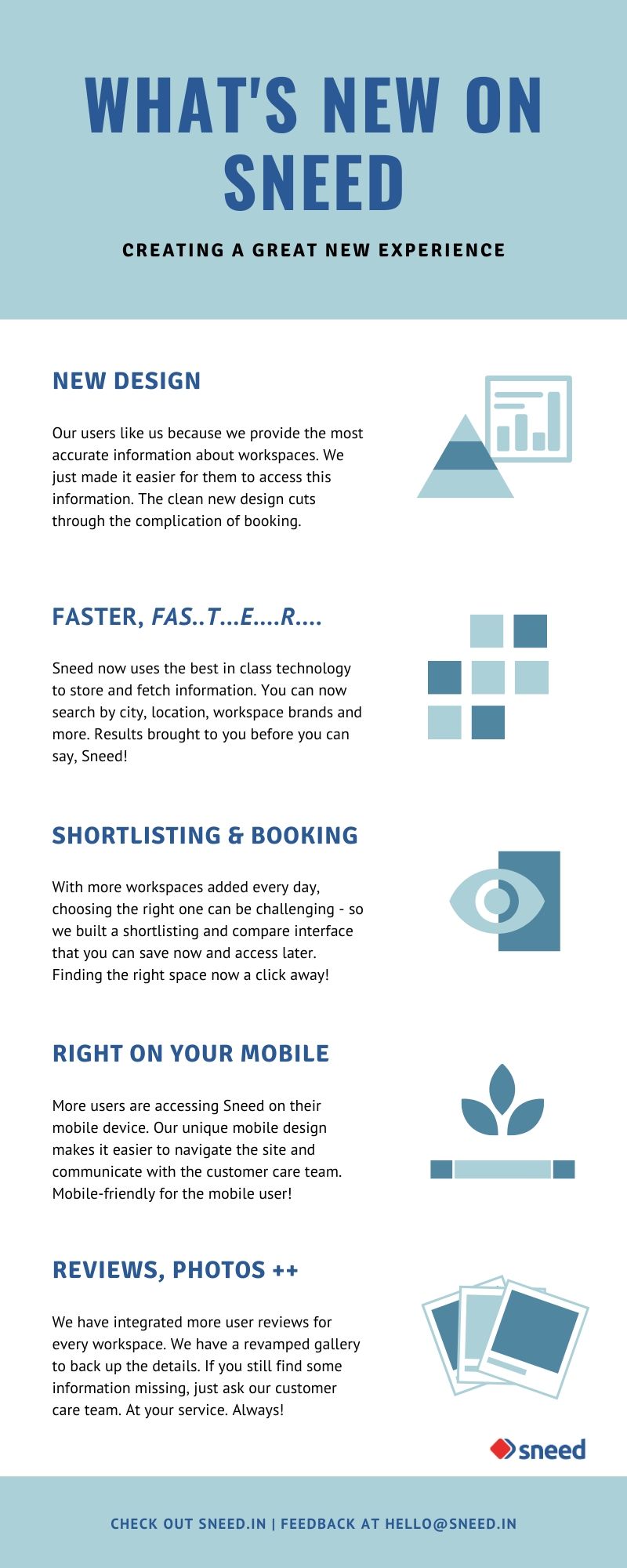 Accelerated Site Speed:
Over the years, Sneed has resolved continuously to give you more information about all the workspaces. We have now stepped on the accelerator! We revamped the engineering and have put together a site that is faster to load on both your desktop and mobile devices. Enjoy faster load times!
New ways to search:
So far, Sneed allowed you to search only by location. We have changed that now. You can now search workspaces by the brand of workspace. If Cowrks is your preference, click the link and you will see all their workspaces.
Also, you can search by your workspace requirement – If it's a 6 seat meeting room in Bangalore, then a simple search for that will show you all your choices. No more filtering search results to get actionable information.
The Sneed Brand identity
Why change something that ain't broken?
It has been a long journey since we started sneed. Many aspects of our business have changed over time, and yet we continued with our brand identity. While it did resonate with all that we still do, we are increasingly focusing on making it simpler for our stakeholder to do business.
Our new website design reflects this change – a move towards a simplified solution, and therefore we began with simplified messaging. This graphic explains the change!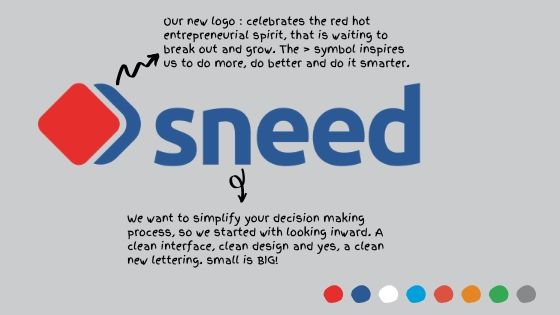 What does not change
We are committed to providing you with accurate and actionable information. Sneed is a zero brokerage platform for its coworking users. We do not hide information. We do not mark up prices, and we do not mask workspace names.
We are committed to our coworking partners to help them market their workspace wider. We follow a standard process of vetting and listing properties and providing our partner's insights about their offering.
We are always waiting to hear your views. Drop me a line at amit (dot) prabhu (at) sneed (dot) in