Hello there, my beautiful friends!
I hope you are doing great!
In my first year, there were a lot of situations when I felt lost. Like, I had no idea what the teachers were talking about, or what the ligaments of knee joint were, Or what were the steps of ketogenesis…
And a lot more.
There were times when I actually wished I could go back in time just to see the scapular muscles again, because only 4 months into MBBS, I was already forgetting a lot.
Okay, enough of me whining about my first year.
What I am trying to say is, there is a way to see all the begone dissection sessions again.
There is a way to see and hear every biochemical pathway again.
A way to see and hear every topic in every MBBS subject again and again and again.
So in this post, I am going to introduce a game changer to all the medical students out there –
MEDIMAGIC – The best 3D medical learning app
This post may contain affiliate links. That means I get a small commission if you click or make a purchase through my link, without costing you any additional charges.
What is Medimagic?
Medimagic is a visual learning platform for studying medicine.
It is a 3D visual platform which meticulously covers the MBBS subjects and thus is trying to revolutionize the world of medical education.
It has an immense amount of reliable information, which is put together by renowned medical experts of all times.
They are delivering the most accurate, curriculum-based topics in MBBS course to all the medical students out there.
Medimagic promises an interactive learning strategy through their hyper-realistic 3D visuals of the subjects.
It was in my first year MBBS that a friend introduced Medimagic to our batch, and we all just tried it immediately, and loved it.
Let me dive into the specifics of the app to give you an idea.
Before that-
The VAK model of learning
VAK stands for visual, auditory and kinaesthetic.
This stands to denote the most basic style of all the learning styles.
This is how we normally learn things in our daily life.
We see things, hear about things, do things we hear or see… that's how its all getting printed in our minds.
Medimagic here, uses the same technique.
It provides a power-packed bundle of world-class visuals with the most appropriate narration to enhance the learning experience.
You see and hear things, and even the complicated concepts will be easy for you!
You can master all those hard-to-imagine concepts with a single app!
Impressive, right?
What do you get from Medimagic?
Medimagic gives you unlimited access to all the videos in the platform, which covers almost entire topics of the medical curriculum.
The app is designed for all levels of medical education- preclinical, paraclinical, and clinical subjects are included.
(Although clinical subject videos are yet to be published this fall… I'm so excited!)
In Indian scenario, it's for first, second, third and final year students.
Although it is a learning platform aimed for medical students, it extends it's services to anyone in the medical field, as the information is up to date and concise.
The preclinical subjects featured include:
Anatomy

Physiology

Biochemistry

Neuroanatomy

Histology

Embryology
The paraclinical subjects are:
Pathology

Pharmacology

Microbiology

Forensic medicine
And all you need is an email id to sign up for it!
Clinical subjects are expected to be out this fall. Then, we'll see the full potential of the Medimagic platform!
Every subject is divided into bite-sized topics, and these topics are explained detaily in these videos.
The videos comprise of 3D animation on the topic with accurate explanation which is in plain language, so you won't miss a thing.
The duration of these videos are quite short, like in the range of 15-20 minutes, and some of them are even less than 10 minutes! It is well under our maximum concentration capacity so we won't get bored.
Moreover, you get the option to download these videos and watch them offline too!
Come on, where else do we get that?
So, even if you missed one class, or want multiple revisions- Medimagic app has got you covered!
There are also options to watch the videos in different speeds and quality.
Make sure to check out Medimagic through my link here.
Here are some screenshots of the app on my tab:
( Shot from Samsung S6 lite tab)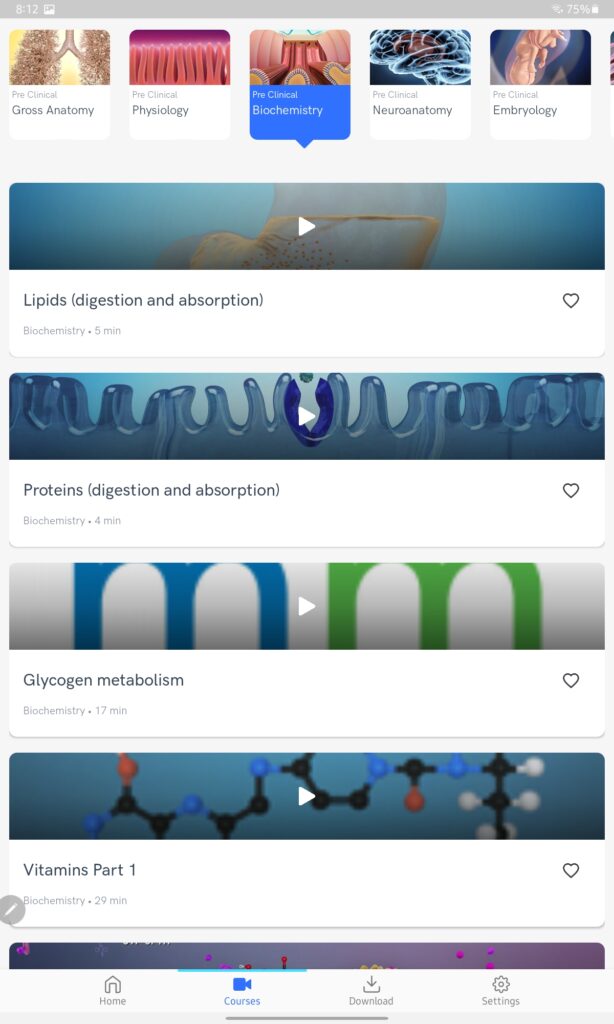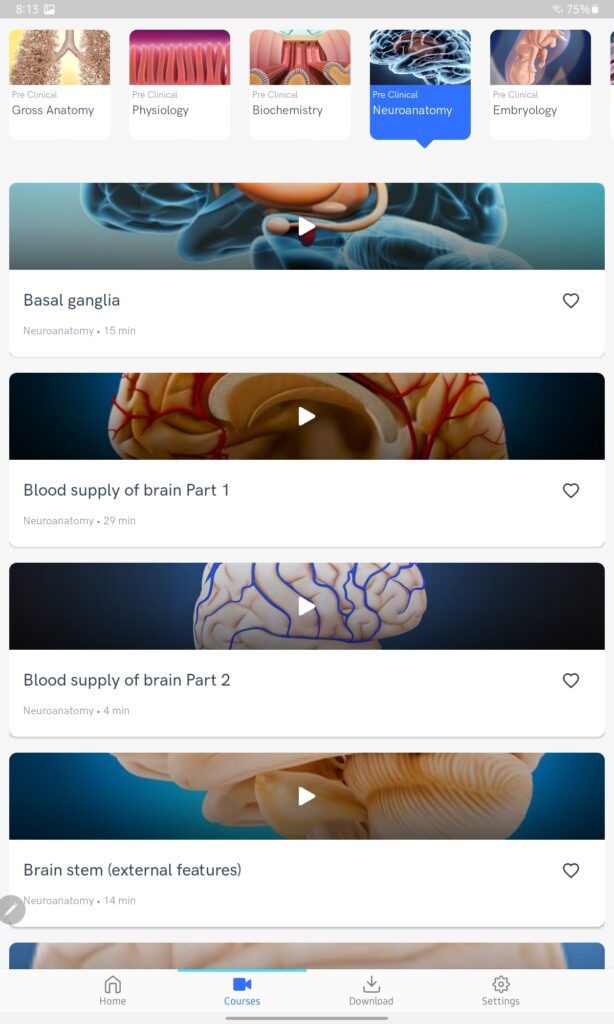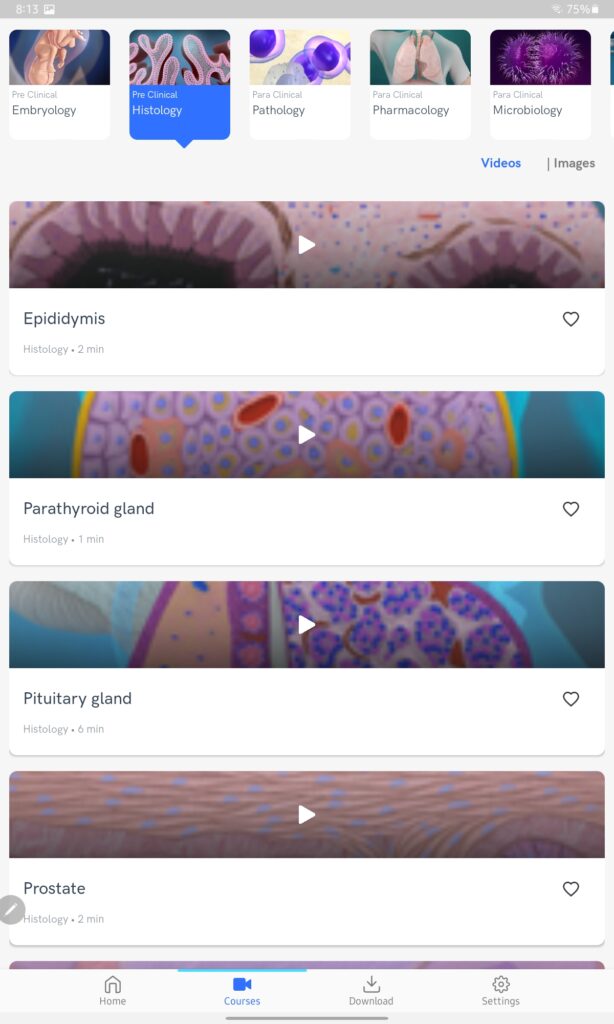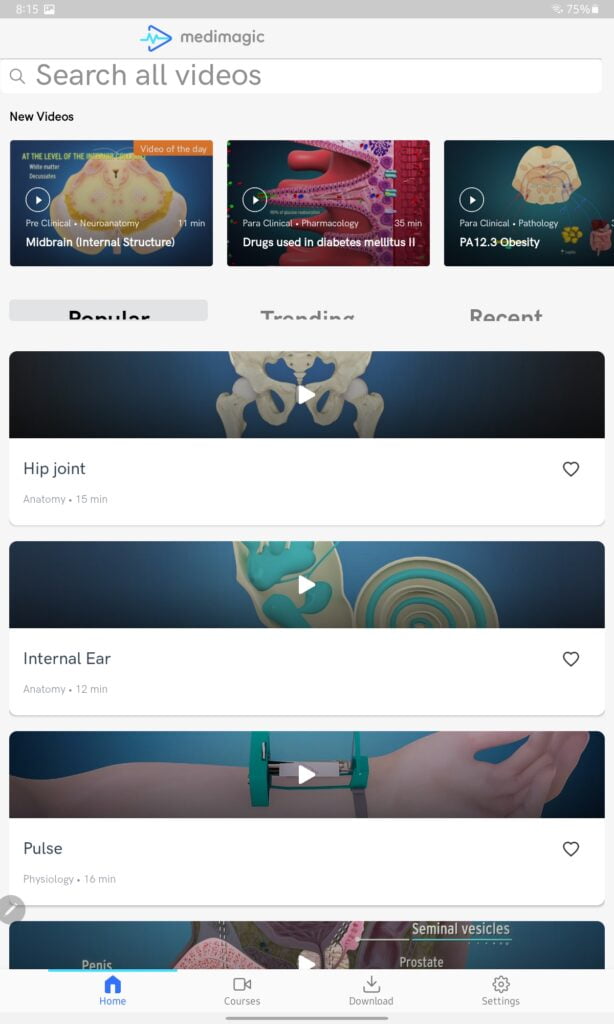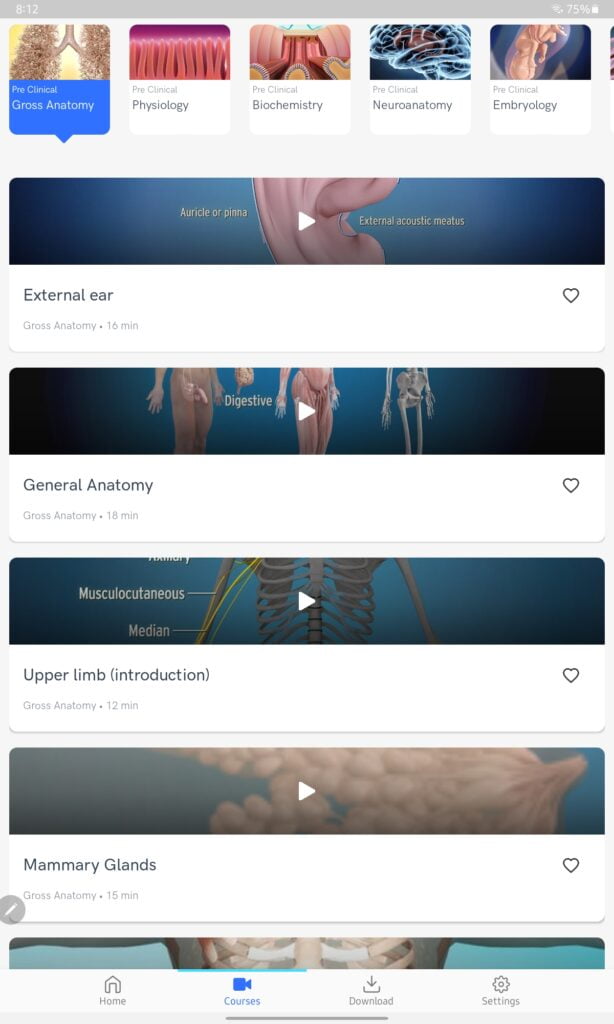 If you are planning to check Medimagic out, use this link here!
Pricing and support
The app provides a 15-day free trial for you to try when you first sign up to the platform.
You only need an email id to do that.
Then, the pricing varies as there are multiple subjects and you can select just the ones that you want.
The good thing about this app is, you don't have to share your card information upfront. And even if you subscribe, you can pause the auto-renewal of the plan.
Here are the pricing plans*:
Monthly:
| Features | Basic | Lite | Pro |
| --- | --- | --- | --- |
| Price | ₹299/mo | ₹549/mo | ₹949/mo |
| Courses | 3 | 5 | Full access |
| Offline downloads | – | Limited | Unlimited |
Yearly (billed yearly):
| Features | Basic | Lite | Pro |
| --- | --- | --- | --- |
| Price | ₹249/mo | ₹449/mo | ₹748/mo |
| Courses | 3 | 5 | Full access |
| Offline downloads | – | Limited | Unlimited |
The Pro plan even allows you to watch on your laptop and TV (though you can watch on mobile and tab even with the Basic plan).
Soon, they are coming with additional feature like notes, and analytics, which is going to make Medimagic app a gem!
*Note that these plans are for students.
If there are any queries, or if you need support, you can contact the Medimagic team at info@medimagic.com.
Is Medimagic worth it?
Medimagic is the only reason I learned Anatomy in first-year. It was so helpful to revisit those dissection sessions again.
During the lockdown, they even provided free Pro version to everyone for months!
I definitely suggest going for it. You can save 15% if you sign up for a yearly plan.
It will do so good during your study sessions.
Cons
Nothing is perfect, after all!
There are definitely some flaws with this platform too, like any other out there.
I find the mobile application very lagging. The videos take some extra time to fully load, so unless you have a sound network connection, it would be difficult to load.
The app used to crash when I was using it on my phone, but now I switched to my tab, so that's probably not an issue.
The advantages of this app outweigh its cons, so I would rate it 3.5 out of 5 for its performance as a whole.
Don't forget to share this post!