Have you ever visited a city in India which will invariably make you say "Am I in India"?
Yes, you are in India, and there exists such a city. Its name is Chandigarh, located near the foothills of Shivalik's range and designed beautifully by French architecture Le Corbusier.
This city is a manifestation of dream visualized by our honorable Prime Minister Pt. Jawahar Lal Nehru. It ranks number one in terms of architecture and quality of life. If you have ever been to this place, then you must have noticed that there many gardens in Chandigarh which are best from each other.
There are plenty of gardens in and around the city, and best out of all is Rose Garden of Chandigarh, located at Jan Marg, in 16B, Sector 16.
Moving further, let us tell it is Asia's largest Rose Garden and named after our former president Dr. Zakir Hussain. It was brought to reality by Chandigarh's first chief commissioner, Late Dr. Mohinder Singh Randhawa, who was a renowned botanist, culturist, historian and a vivid writer.
If you want to see how beautiful the place looks when the roses are in full bloom, then visit during Rose Festival Chandigarh. It is an event held annually that grabs the attention of nearly 300,000 people.
Have you ever been to a show where rose and its varieties are displayed magnificently?
No, then now is the high time.
Let's begin with details:
Celebrate 48th Rose Festival Chandigarh 2023
Rose Festival Chandigarh 2023 Dates:

Address

: Jan Marg, 16B, Sector 16, Chandigarh, 160016

Timing

: 10:00 AM to 8:00 PM

It falls during the last week of February. This event is pure bliss for nature lovers. To your knowledge, let us tell, this event is known by another name also called Festival of Gardens, and die-hard fans still prefer this name.

It is a significant event that every year pulls nearby 300,000 people. It goes on for three days, and the attendees are from India as well as foreign countries.

The Administration of Chandigarh leaves no stone unturned while making arrangements for welcoming the people. The whole place is well decorated with light works, hangings, flowers, sparkles, and festivities.

The sole purpose behind conducting this event is pulling the audience to visit this place seated in nature's arms and feel gratitude for the thing's nature has bestowed us with.

This affair is not solely for enjoyment purpose but to spread awareness regarding nature like how to preserve it and keep it neat.

If you think that the Rose Festival 2023 is merely about those alluring fragrant flowers, then you are wrong here.

As along with it, many other events are also held.

The timing chosen for this festival is perfect as during this time, the flowers are at full bloom to show their scenic beauty. As if they are telling that "watch us."

Keep reading to know what this event is all about and how you can enjoy it?

Inauguration Ceremony

The event will start at sharp 10 'o'clock and will go on for the upcoming two days. The timings are from 10 am to 8 pm.

Firstly, the chief guest will arrive, and cultural performance will be held to welcome them. The Chief Guest will inaugurate the festival, and the programs begin.

Later the commissioner and other dignitaries will address the audience. Last year, the festival was dedicated to "CRPF Personnel who got martyred in Pulwama Attack." This year's theme is "Plastic Mukt," which means Plastic Free.

Apart from feeling the alluring beauty of nature, you can do a myriad of things here.

Go through the list of events, and don't forget to read about the best part in the end. 
Rose Festival Chandigarh 2023 Competition List
Before participating in any event, come prepared to win the prizes.
Traditional Folk-Dance competition

– It is the first competition, and after this, the list goes on. During this, a different group of performers will represent tradition, and afterward, one of all the groups will be selected as the winner and will grab the decided prize.

Mr. and Mrs. Rose Competition

– It is held at the same place by 3:30 pm. During this event, small activities are conducted by participants upon the instructions of judges. Later the winner is decided who gave maximum right answers. Youngsters can take part in it. Similarly, there is one more event called Rose Prince and Princess.

Vintage Car Show :

Don't forget to witness this show on 22nd FEB. During this, you can get glimpse of some old luxury vintage cars.

Craft exhibition

–  In this, various artists came up with their crafts, handicrafts, artworks as well as wares and put them on display to grab the attention of people.

Brass and Pipe Competition

– In this activity, various brass bands come up to show their band skills. They play different musical instruments during this and showcase their expertise. The best group out of all is selected and declared as a winner.

Competition for Newlywed couples

– Participate in the event for Newlywed couples and win prizes.

Photography event

– In this event, a theme is given to the participating photographers. In the given time, they have to capture the best shots and submit them before the deadline. Be creative and different enough to win this and grab hampers. Fill Form

On the spot painting

– In this, some topics are given on which you have to create the painting. Showcase your drawing skills and win prizes.

Rose quiz

– In this, the questions would be asked to you regarding the roses, its varieties, etc. To win it, we suggest you sharpen your knowledge beforehand.

Flower and Rangoli competition

– Pick your colors and create Rangoli appealing Rangoli designs in stipulated time. You can also create designs using flowers.

Floral Hat competition

– In this, using the petals, flowers, leaves, shrubs, stems, etc. you have to create the design on the hat to make it look floral—the best-shaped hat win.

Antakshri

– It's the favorite pastime game of our Indians. How can we forget not to keep it in the competitions list? No need to tell, we know you are already well familiar with the rules. Participate in it and win prizes.

Rose King and Queen

– How can we leave our senior citizens behind. This competition is solely for them and the same as Mr and Mrs ones.
Punjabi Cultural Evening Programme
Let's now come to the most exciting part of this event.
Consistently for three days in the evening, various singers from Bollywood and Pollywood industry come to entertain you in the evening and keep you hooked. Last year Kulwinder Billa, Gippy Grewal, and Ankit Tiwari came to make evenings melodious.
This year, Gurnam Bhullar, Ammy Virk, and Satinder Sartaaj is coming to entertain you with thrilling and soothing Punjabi melodies. All three are renowned as legendary singers of Punjabi Industry.
Buy Passes for the Musical Night from Tourist Information Centres at Sukhna Lake, Garden of Palms, Sector 17 Plaza, and Capitol Complex. Passes are served on First Come First Serve basis.
Enjoy Helicopter Ride at Rose Festival Chandigarh
No one can deny the fact that this place is the queen of the gardens. During the event, you can even enjoy a ride on the chopper. Many people do love to see the aerial view of this city beautiful, so there is always hustle-bustle, to get your seat fixed, book your rose festival 2023 helicopter ride ticket beforehand.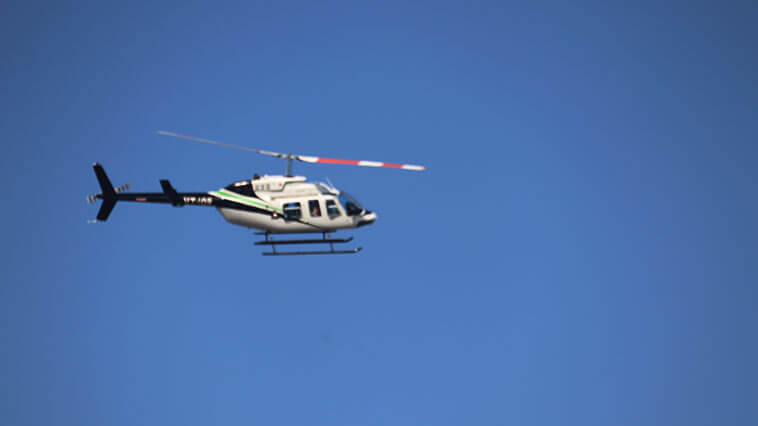 Most of the people don't get the chance to take the ride just due to the rush.
Helicopter Ride in Rose Festival details:

Starting point – Sector 17 Parade Ground

Ticket price

– Rs 1700 per person for 10 mins ride (Last year fare was Rs 2310)

Ticket Distribution Counters

– Elante Mall, Punjab stores sector 9, Hot millions, DT Mall, Sector 17. Available from February 20. You can get them from the venue also. Timings – 9 am to 6 pm

Helicopter ride route

– Sector 17 Plaza, Sukhna Lake, Sector 10 Leisure Valley, Rose Garden, and end from where chopper took off.
Want to get the ride, book tickets now rather than regretting later.
Book your helicopter ride tickets for the rose garden now to grab your seat.
Other Centre of Attractions
Children's Zone

– It is intended for the kids where they can enjoy fully. Here kids can enjoy swings and rides.

Musical Fountains

– They serve as the cherry on the cake and set the perfect romantic mood to enjoy the Rose Festival Chandigarh 2023.

Wind Chime

– A big tall wind chime is installed in the garden located beside the milk bar. The chime, with its perfect melodies, sets the best ambiance.

Electronic gadgets stall

– Here, you can buy the displayed electronic items which you need.

Food stalls

– The satisfy your taste buds, you can enjoy varieties of food here from multiple cuisines. They are all lined up to serve foodies.

Besides this, you can enjoy the camel ride and puppet show. Everything is arranged perfectly to keep you hooked.


Closing ceremony and prize distribution

– All the winners of the events get the prizes, and with this, the events end.
Are you planning to come here?
How to Reach Chandigarh For Attending Rose Festival 2023?
You can reach here by any mode of transport. Below we listed all:
By Road

– You can arrive here via road very quickly as it is well connected to other cities with the help of National Highways. Catch the ctu bus anytime as they are mostly available, notably from Punjab and Delhi.

By Train

– This city has its railway station, which is connected to other major cities. Another benefit of coming via train is that the fare is very nominal, and trains almost keep running from time to time.

By Air

– Chandigarh International Airport is about 12km from the central city. From here get direct flights to Amritsar, Delhi and other states of India.
If you are coming from another country, then also keep your worries aside. You can catch a flight directly to Delhi or Chandigarh and reach this place quickly.
Have you reached?
Yes, then don't forget to keep the best tourist places in Chandigarh on your itinerary if you got enough time.
Wrap
February is not only limited to celebrating Valentine's day but also get a glance of blooming rosettes.
Find in CHD would like to urge all the residents to be part of this event and also take care of the cleanliness of nature. We request you not to spread the litter around.
We request to be part of this event and make it more interesting and you are also suggested that you may use more shatus or shayari or greeting cards images.
We can't wait to see you all fellas there.
To know more about upcoming events in Chandigarh, or to get detailed info about any location, stay in touch with us. Press CTRL+D to bookmark Find in CHD and get updates immediately.
Thank You for Your precious time. Do tell us in the comments about how your experience was after attending this event. We are waiting to know.
Put your shoes on, Dress breathtakingly beautiful, and enjoy the event of a lifetime.