Is Chandigarh Airport located in Chandigarh or Mohali?
There is a whole lot of confusion among the people regarding the location of Chandigarh Airport. The confusion is because it was earlier called the Chandigarh Domestic Airport which was closer to the Zirakpur area covering much of the Chandigarh region itself.
The Government has been trying to make the Airport international ever since its establishment. Due to the issue of the land in the Chandigarh region as it was quite close to the Air force station, they ended up buying land closer to Mohali in the village Jhiurheri.
Chandigarh international airport shares the runway with the Air Force and is operated for the military activities as and when required. The old and new ones both are the same; the only difference is that it is not domestic anymore. Also, it is to be noted that the old domestic terminal has now become a VIP runway and is not open to the common public.
The efforts finally paid off and in the year 2015; the premises expanded acquiring an area of about 305 acres, where now lays an International terminal which got successfully built and was inaugurated by the Prime Minister Shri Narendra Modi.
So, now that we have established the above let's get a glimpse of what the airport is like and the facilities it offers. 
First, do you know how many airports in Chandigarh?
There is only one.
Chandigarh International Airport comes under Punjab as well as Haryana jurisdiction as the capital city is a Union Territory and each of the state's shares equal rights on the proceedings and activities related to it. Also, where Punjab and Haryana hold some 24.5% stakes, on the other hand, the Airport Authority of India (AAI) has 51% of the share.
Images of Chandigarh International Airport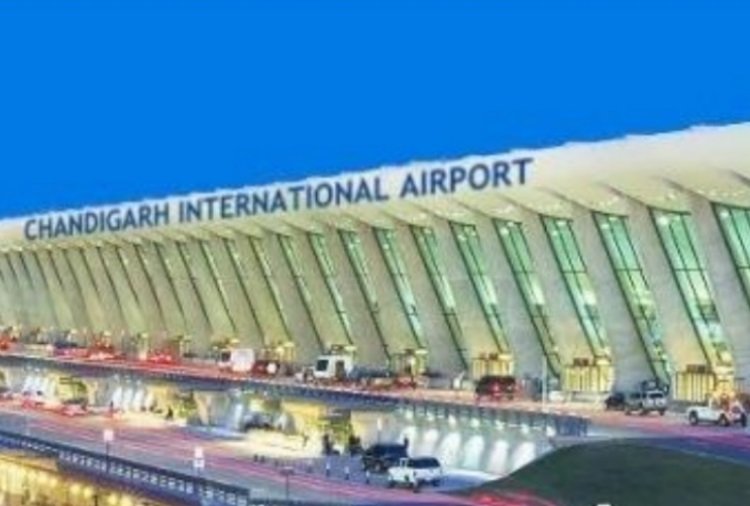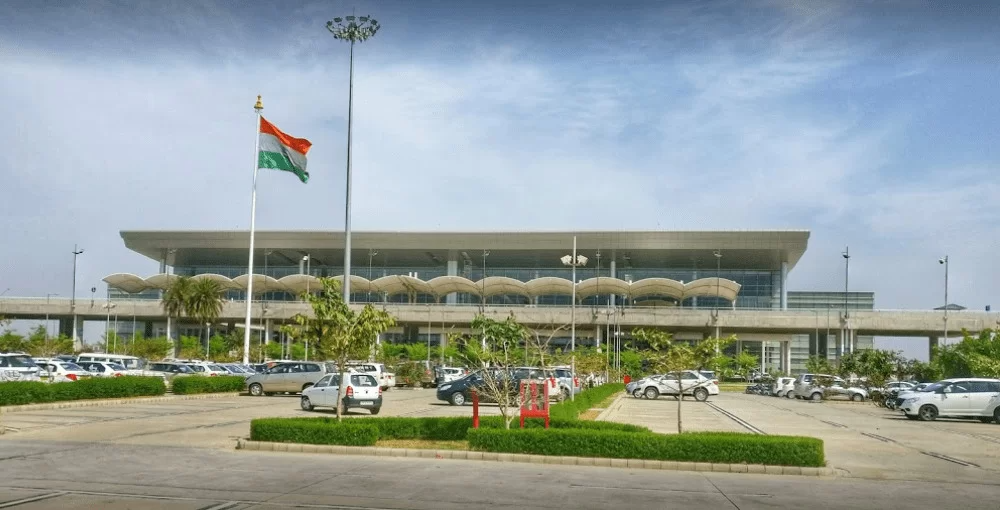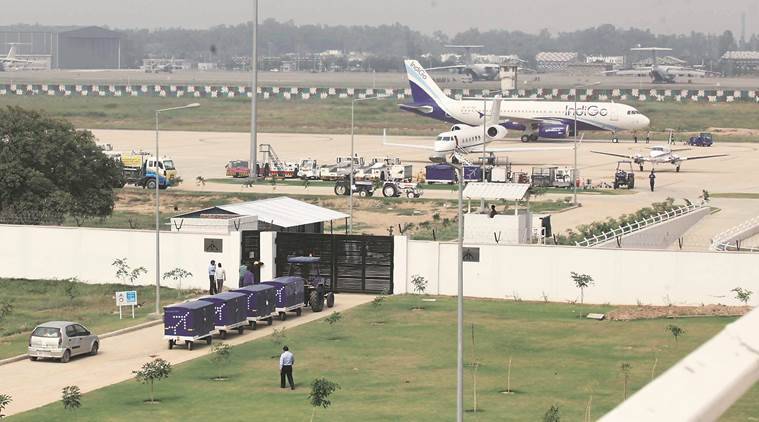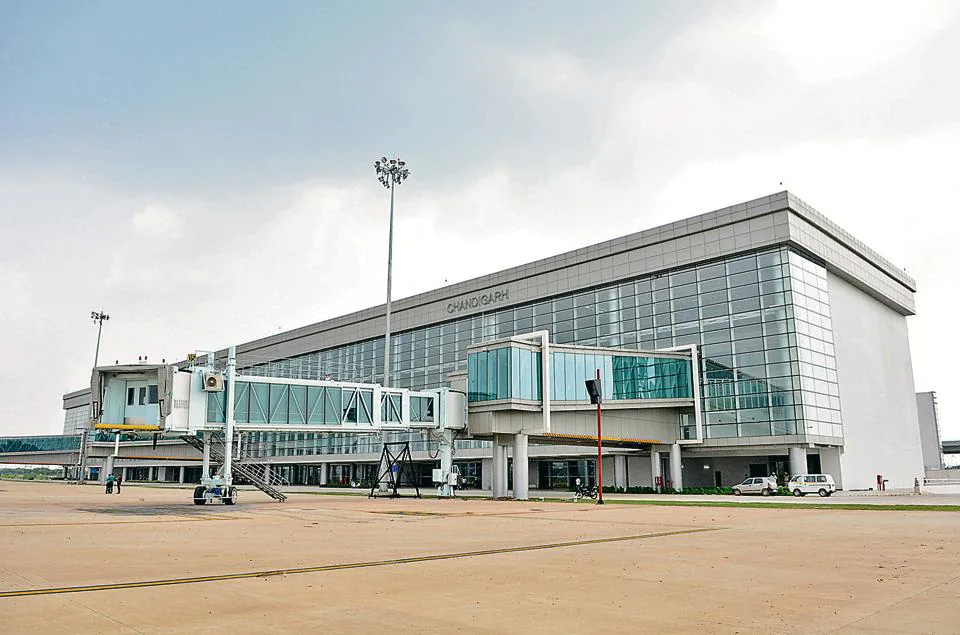 The Infrastructure:
It is marvelously built, with botanical gardens inside, spectacular art, huge paintings and more. The ambiance of the place is not only soothing but one gets a rich feel. Being well maintained, you will find it neat and tidy at all times.
It is home to some 8 airlines so far catering 2 international (Dubai and Sharjah) and 14 domestic destinations and has a 53400 Square Meter Terminal, which is quite huge and impressive
It has some 48 check-in counters which make the boarding really quick and easy.
Aerobridges; that connects to the flights through terminal gates, there are some 6 of them which means at a time 6 flights can be boarded easily.
It's built vast and keeping in mind the area and comfort of the commuters there are 14 lifts and 6 escalators.
The whole premises are centrally air-conditioned.
There are snack bars and a restaurant inside. So, if you are waiting for someone, has a delayed flight or would like to grab a quick snack, you are most welcome to get the high-class treatment where services and their quality is always under vigilance. You will surely have a delightful experience.
Duty free shops! How can it be that there is an airport and there are no duty-free shops? So, now if you forgot gifts for your relatives, Duty free shops are your saviour!
Apart from the above, there are CCTV security cameras, provides with Wi-Fi services, and LCD TVs spread everywhere.
Chandigarh Airport enquiry phone number:
Telephone: +91 172 2659886
Fax:    +91 172 2659887
Points to remember and things to take care:
The general guidelines for the security issues remain the same as any other airport operating in India as all are under the Airport Authority of India (AAI) respectively. So, make sure that you read the guidelines thoroughly and adhere to it fully or be ready to bear hefty consequences.
Always make sure that your boarding pass has a security stamp on it which you will get at the time of the boarding.
Make sure that you take care of your luggage at all times and do not leave it unattended as there can be a risk of loss of property and also to save it from unauthorized activities (drugs, smuggling and more).
If in case the luggage is left unattended, it is very likely that it will come under the notice of the authorities and your luggage can be confiscated under suspicion. This will add to your delay and troubles even more. So please stay alert and vigilant.
One thing to always keep in mind is never to accept any kind of packages or if someone requests you to take care of their property; deny it on the spot. Do not trust people! As it can cause you trouble big-time.
Your safety is in your hands!
Stay in touch with us to get every Chandigarh airport news.
Are Chandigarh International Airport and Shaheed Bhagat Singh International Airport same?
An issue that still remains unaddressed! There has been a lot of speculation regarding the name of the airport. Haryana and Punjab have been fighting over the name still today, where Punjab is in favor of renaming it as "Shaheed Bhagat Singh International Airport" and Haryana wants to keep the name as it is. It was also speculated where some were in favor of changing the name to "Mohali International Airport" as it lies more on the side of Mohali than Chandigarh. But having said that, the Chandigarh airport name is Chandigarh International Airport, so do not be confused while booking your flights and tracking the routes. As of now the case is still lying pending and it is believed that the name will remain the same and there will not be any changes.
How to get to the Chandigarh Airport? 
The best way to reach is via Zirakpur Road. It is always better to use GPS tracking though as then you can track the route from your location and check out the easy and quick routes.
Also, you can book an OLA cab or an Uber to reach the destination. Buses come directly too, so if you choose the bus service that will be hassle-free as well. The only problem you can face is if you are carrying heavy luggage or more than 2 bags. In such cases, it is best to use cab services.
Once you reach the destination, you will have to get the entry ticket which is free of cost provided that you come out in time or else if you keep your car park then the hourly rate will be charged. The rates for cars are INR 60 for the duration of 2 hours and after that, with each hour you will be charged INR 10 additional. For the buses, the charges are INR 170 and additional charges will be applicable. For 2 wheelers it is INR 15 for a duration of 5 hours. If you are only there for quick pick and drop then there are no charges at all. Also, please be sure that overnight parking is not allowed.
After you get your ticket, a few meters further and you will see a signboard guiding you towards the Departure, Arrival, and Parking, in the same particular order, left to right.
Local Air-conditioned Bus Service Operated by CTU is also available which works throughout the day. So, you will not face any issue while going or coming back.
Chandigarh International Airport Address:
New Civil Air Terminal,
Mohali District,
Sahibzada Ajit Singh Nagar,
Punjab 140306
E-mail:     apdchd@aai.aero