"Education, to be complete, must be humane, it must include not only the training of the intellect but the refinement of the heart and the discipline of the spirit. No education can be regarded as complete if it neglects the heart and the spirit. "                  – Dr. Radhakrishnan.
Dr. Sarvepalli Radhakrishnan (1888-1975) was born on September 5, 1888 at Tiruttani (Madras Presidency), a noted pilgrim centre in South India. At the Madras Christian College when he was hesitant about the choice of his subject, a cousin of him, who took a degree that year, gave him his textbooks of philosophy. This helped Radhakrishnan to decide his future vocation. He served his apprenticeship as a Professor of Philosophy and he worked hard with his Sanskrit scholars. His success as a teacher was due to his great learning and his gift of lucid exposition. From Mysore, he went to Calcutta to hold one of the most highly prized University assignments – the King George V Chair of Mental & Moral Philosophy. For more than 20 years he was closely associated with the Calcutta University. This was the most productive period of his intellectual life which saw the publication of his two volumes on Indian philosophy. Foreign recognition of his genius came in the form of invitations for lecturing in the Universities of England and America. Even without any note to assist him, he would keep his learned audience enthralled with words of wisdom packed with thoughts and spontaneity.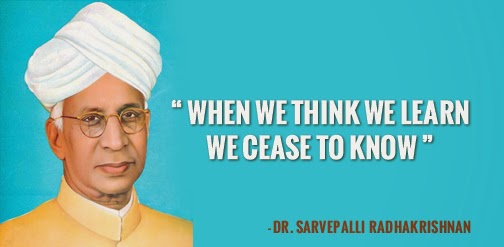 He joined as the Professor of Comparative Religion in the Oxford University in 1929 and as the Vice-Chancellor of Andhra University in 1931. His book "Eastern Religion and Western Thought" appeared in 1939 and he won the rare distinction of being awarded the fellowship of the British Academy. As the Vice Chancellor of the Hindu University, he visited China on a lecture tour. He was the Chairman of the University Grants Commission and the leader of the first Indian team to the UNESCO. He was the Ambassador of India in U.S.S.R. from 1947 to 1952.
In 1952, he was elected as the Vice-President of India and was again re-elected in 1957. For ten years, he became the life and soul of the house. As the Chairman of the Rajya Sabha, he built up a new tradition with his great wisdom, dignified poise, sense of justice and humour. In 1962, Dr. Radhakrishnan was elected as the President of India.
He has travelled wide and large carrying the message of India's philosophy and religion to all parts of the world.
Dr. Radhakrishnan's contribution to Education is unique and irreplaceable. He begins his career as a teacher and meant to become an educationist of great eminence. He had first hand experience of educational
institutions and their multi-faceted problems, which he studied from different angles and perspectives. Despite of his being a great philosopher he saw life from very close quarters and saw it full. He believes that our entire strenuous endeavour for human betterment is of no avail if we fail to see that life has a meaning. There is a general hurry to escape from the world of meaning. We are made to assume that human beings are almost wholly conditioned by the physical and social environment in which the line, and we are sometimes taught the essential purposelessness of life. This is a generation which knows how to doubt but not how to admire, much less to believe. This is precisely where humanity finds itself today. Dr. Radhakrishnan points out the disillusion and confusion of our age where our values are blurred. Our thought is confused and our aims are wavering. Man does not live for bread alone. He must have a faith. This faith is more than just being. It is a commitment, and life without commitment is not worth its values.

The spirit of faith in him is all pervading. Such faith is at least quadruple in nature. First is the faith in God's creation. Since it is orderly, it is dependable and one can count on it. Finally, he believes that man must have faith in himself and must realize that there is a divine aspect within him. [shc_shortcode class="shc_mybox"]It is this divine aspect, which is responsible for the entire creativeness and for all the freedom that men exercise in the world. Man has progressed from a stage where he has clothed himself with skins and used stone axes to the present state where he travels the whole earth in a few hours and trying to reach the moon and the stars. It is not due to the force of events. But due to the spirit in man which makes him look forward. Education is a great instrument of social emancipation. It strengthens democracy to establish, preserve and protect the spirit of equal freedom and equal rights among men, regardless of race, religion, sex, occupation or economics status. Equal opportunity however, does not mean identical opportunity. It means the equal- availability of education for every person to the extent he can profit from it, and of a kind best designed to assure his maximum development, recognizing differences of ability aptitude and interests.[/shc_shortcode]
Education and philosophy are inextricably related to every society, and education is essentially a socio-philosophic enterprise. Any attempt to solve educational problems without wisdom and power of philosophy is inevitably deemed to failure.
Aims of Education
Dr. Radhakrishnan believed that educational system must find its guiding principles in the aims of the social order for which it prepares, and in the nature of the civilization it hopes to build. The social philosophy must be very clear. Societies like men need a clear purpose. Without which it is difficult to decide what should be done and how it should be done. The commission declares that our educational system should be governed by social philosophy outlined in the constitution.
[wpdevart_like_box profile_id="foundationsofeducationbook" connections="show" width="300″ height="150″ header="small" cover_photo="show" locale="en_US"]
Curriculum
According to Dr. Radhakrishnan, there are three types of existence – the natural, the social and the spiritual. These are inter-related. The content of teaching may be classified under three groups accordingly. Science and Technology is concerned with our relationship to nature. Social science is concerned with our relationship to the society and its philosophy. Art and literature is concerned with our relationship to values or the world of spirit. The different studies should be treated as parts of a whole. Dr. Radhakrishnan says that the house of knowledge cannot be divided against itself and, therefore, it is idle to think that science gives us a particular knowledge, art gives another, and literature gives yet another. It is one indivisible whole with a particular spiritual direction.
Discipline
A free society is composed of free citizens. Freedom is not simply the absence of external control. True freedom is an inward quality, a function of the mind and spirit. The insurance of freedom rests on the belief that a human being is a forceful moral agent with the capacity to choose between right and wrong, and good and evil. Our education should encourage the development in its members of the fearlessness of mind, strength of conscience, and the integrity of purpose. Any intellectual progress would demand a spirit of free inquiry. All education is expected to be liberal. It should have the power to free men from the shackles of ignorance, prejudice and unfounded belief.
Women Education
Dr. Radhakrishnan says that women have their own special part to play in bringing peace to the horror stricken world, and they have a definite philosophy of life. "Women are the missionaries of civilization with their immense capacity for self sacrifice and they are the unquestioned leaders in ahimsa." The education of women should be considered as a humanistic plan rather than a physiological one.
Teacher
Dr. Radhakrishnan has a lot of things to say about the teacher. A teacher has to give his best to the students. The greatest stress has to be laid on the quality of education which is imparted. All other considerations should have a second place. If any kind of compromise is made in this, the result may be disastrous. Tempering with quality would mean lowering the standard of education. Education should not only be broad, but also deep. Quality and depth must not be lacking, education cannot be interpreted as a compilation of disconnected information or a collection of distracting scraps.
Dr. Radhakrishnan symbolizes India, which is both ancient and modern, and secular and spiritual. He epitomized all cultures and tried to build a bridge of understanding between the East and the West.